Costa Rica offers tranquil beaches and sunsets but the country is also known for its mighty volcanoes, both inactive and active. Please enjoy reading about our diverse geography and thank you for your continued interest in our company.
Volcan Poas National Park
Ecological Eden
The Volcan Poas National Park is one of the most visited protected areas in the country. The ride there is scenic and pleasant, and since it's only 47 kilometers away from San Jose, it is an easy "must see" for any tour intentions. The volcano has had a long history of eruptions, going back as much as 11 million years ! On January 25, 1910, the volcano spewed out 640,000 tons of ash, and in the period of 1952-1954, it bombarded nearby areas with ash and rocks. Since then, the Poas has maintained a low profile.Apart from its volcanic activity, this national park offers four different habitats; this, in a relatively small area, is evidence of Costa Rica's incredible biodiversity. There are 79 species of birds in this park, including the robin, the hummingbird and the spectacular quetzal. Among the mammals found here, are the coyotes, long-tailed weasels, skunks and some small felines.
Active Arenal
Another Amazing Attraction
If you liked the Poas Volcano and are ready for a more active display of nature's raw force, make Arenal your next stop! Volcán Arenal (1,633 meters) is a picture-perfect cone. It's also Costa Rica's most active volcano and a must-see on any tourist's itinerary. Arenal was sacred to pre-Columbian tribes (it is easy to imagine sacrifices tossed into the inferno), but it slumbered peacefully throughout the colonial era. On 29 July 1968, it was awakened from its long sleep by a fateful earthquake. Still active today there are many tours and attractions in this area. The weary traveler can rejuvenate in the hot springs of Tabacon or trek to Monteverde and "zip" the treetops on a thrill ride you won't find in any theme park other than the Nature's Wonderland.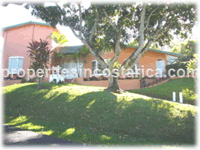 Explosive Enterprise in Escazu! Combine Business with Pleasure!
Volcanoes are not the only active giants in the Central Valley, our website and listings generate their own excitement with a property and price for every pocketbook.

Click poolside to learn more about this beautiful home with a separate guest house that will allow for unparalled entertaining or creation of a cute B&B Resort!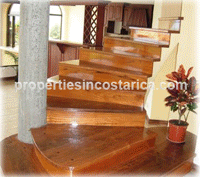 Volcanic Value! Retreat into Paradise!
This 2 story 2 bedroom home is just right for the savvy buyer who wants comfort and attention to detail rolled into one neat package. The second level places the two bedrooms above the hustle and bustle of the city. Glide across almond hardwood floors to the master suite framed by glass doors that allow a spectacular valley view from anywhere in the room (Intrigued? Click the house to reveal more)

Mountain's Majesty Fully Furnished Penthouse
An exceptional value because of the location, Escazu (the Beverly Hills of Costa Rica); the furnishings, since very few properties come with little more included than 4 walls and a roof; and the cost, a west San Jose condo for an east San Jose price! This turnkey two bedroom apartment, part of a modern, 3 year old complex with community pool, landscaped garden walk and rancho can be yours but don't wait too long! (Click photo for more features)

We hope our articles have piqued your interest in Costa Rica enough to visit. When you do, let us know so we can help you make your vacation here a little more permanent.
Sincerely,
Arturo Guzman
Propertiesincostarica.com
Return to Costa Rica Real Estate News